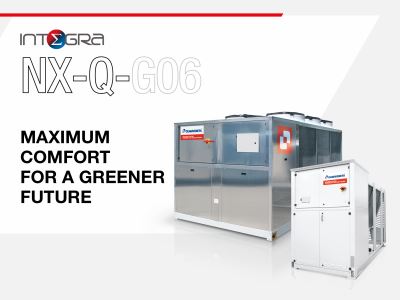 The new Climaveneta-branded NX-Q-G06 multi-purpose units combine the efficiency of multi-purpose units and the sustainability of a low GWP green refrigerant.  New to the INTEGRA range, NX-Q-G06 is in fact able to simultaneously produce hot and cold water with any load combination, always ensuring perfect comfort and high levels of energy efficiency with a new eco-friendly approach. The low refrigerant charge and the low GWP of the R454B gas used, guarantee the lowest CO2 equivalent values on the market.
The range is available from 55.8 to 298 kW, with 2 or 4 compressors, and in three different acoustic versions, without compromise in terms of efficiency. The new units integrate all the main hydraulic and mechanical components inside, providing the installers with a completely plug-and-play solution.
Click here to learn more about the range.